1-st International Gathering – Sarah's memories
20.06.2017
Picked up a remarkably well priced hire car at the airport and headed out on the motorway, wondering what we were letting ourselves in for. Sid had been warm in the invitation to bring the children (aged 11 and 14), and it felt like an interesting summer half term opportunity, but quite how that was going to work out we were not sure. It's not often we get to take an intensive tai chi course together so we gave it a whirl.
As we moved onto more minor roads, the rolling high country of Moravia (great for cross country skiing apparently) started to reveal itself. Lots of serious forests, fields of wild flowers and rural looking villages. It felt strange that we had left London just that morning.
The chalets sit amongst the trees beside a lake, a short drive down a backroad of one of those villages. Accommodation is basic, but really clean, spacious and practical. Big bedroom and bathroom on both floors and even a little kitchenette. It's nice waking up to a pine tree scent and sounds of woodland birds in the morning. Very deeply peaceful.
All meals, including breakfast, were served in the central dining hall by friendly local staff and there were good and varied veg options which demonstrated a sporting willingness to cater for non-meat eaters, plus hearty traditional local dishes for omnivores. One evening they even did a hog roast (yum). Next to the dining hall there's a basic little bar which is good on beer and sells most things you'd like to drink, plus snacks, coffees and ice cream. Bar bill at the end of our stay was equivalent to one good night out in London.
There was tai chi class every morning and practice session towards the end of the afternoon. What an amazing place to practice exercises, form and chi gung, on the grass under the trees with a postcard perfect view across the lake. A week gives time to work on new stuff and soak it up a bit more, without too much life getting in the way. Life here is mainly trees, frogs and other Yeung family tai chi chuan practitioners attacking you in a helpful manner. Lots of laughing. Thank you, Jim, for some memorable classes and to Warren for all your help.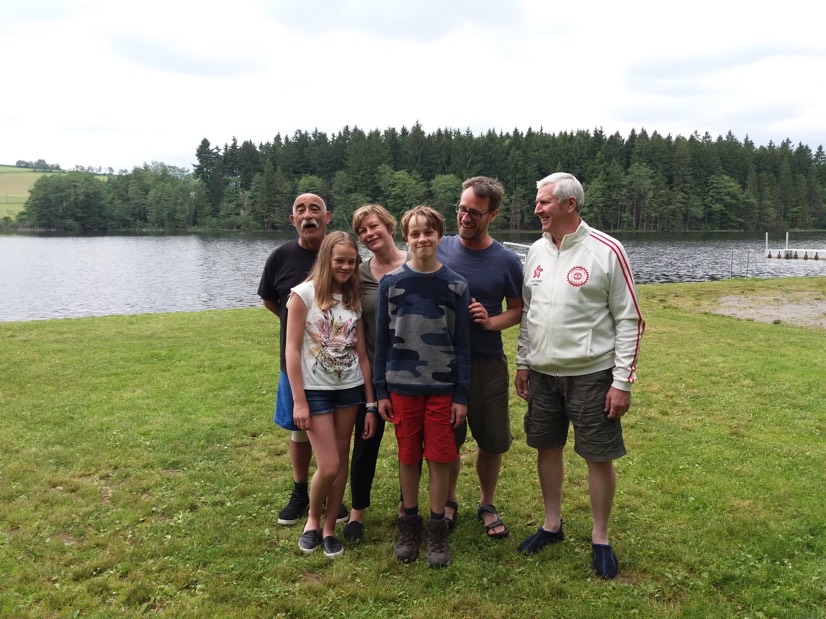 If you bring family along and the children are older, water confident and prepared to do their own thing (including argue) whilst you're in class it really can work. Ours swam in the lake, crossed it in small boats, canoes or pedalos, lazed about and messed around with darts, table tennis, table football and basket ball. There was equipment to do even much more, but that's what they went for. They are still talking about it two weeks later and want to know if we are going back next year. I understand that Sid is on the case and hope to see you there.
You can see selection of photos from gathering here: https://yeungfamilytaichi.com/photogallery/201705-1st-international-gathering-zubri/
---
Comments
---